I haven't had much time for sewing lately, but what little bit I have done has been pretty hot. Hot pads that is. I have a basket full of single blocks that I sometimes make just for fun with nothing in particular in mind so I pulled one 8" block from it and layered it with a backing, 2 layers of batting and 1 layer of Insulbrite. I quilted and bond it and voila a hot pad is made that will not let any heat through from the pan to my hand.
One of my favorite pattern designers is Laurraine from Patchwork Pottery. I have enjoyed her blog for a few years so when she started making patterns for sale I was thrilled. Her patterns are downloadable so you can buy them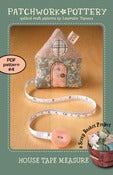 and start working on them right away. I didn't realize this however so I was waiting for them to come in the mail, but she sent me a personal email to remind me to download them. Funny thing how the internet has changed the way we do things. I bought the cute butterfly hot pad pattern and wasted no time making not one, but 2 hot pads. I find it faster and easier to do 2 of something at once and going through each step all at the same time. This patter was really easy to follow with Laurraine's concise diagrams and instructions. I did omit the antennae because I was afraid that they would get in the way and there were some buttons I didn't add either because I was sure I would probably melt them, but I can't wait to put these guys to good use with some baking I have in mind for my next day off when I am going to tackle the perfect pie one more time (or till I get it right). I also bought the pattern for the house tape measure for my next little project.
I have a close friend who is a little house bound and wanting to learn quilting so I have loaned her my older Janome DC3050 and given her lots of books and tools to get her started. Recently I was doing a little reorganizing of my sewing supplies and found the pattern for my Fig Tree pin cushion that I love so I whipped on up for her with some scraps that I thought she would like. This pattern is nice and simple that I had it stitched and stuffed in about an hour. I like to make an insert for my pin cushions with some ground walnut hulls and lavender then I stuff some bamboo stuffing in and I love the way it smells every time I poke a pin in it or if I get a little stressed I just have to squeeze it a few times and I am instantly relaxed. I had also made myself a sewing wallet from a Crab-apple Hill pattern a few years ago and found it very useful for
organizing all the needles I need for all the different sewing applications. I looked through that basket of stray blocks and used some to make a sewing wallet for my friend, too. I hope she will find these as useful as I have and that I have helped to inspire her love for sewing in a new direction. She had done a lot of sewing years ago and I think she is really excited to get back into it again and I am glad to have helped her out.
Now that my sewing area is more organized and I have dug through some old things that were packed away I am feeling ready for fall and some good indoor time spent working on some old and new projects. Quilting on these little projects has got me wanting to get to some of the quilts that have been waiting to be finished up. Yep I'm ready for fall and apple pie, leaves on the ground and a cold nip in the air…just a few more weeks of temps in the 90's here and maybe it will be time!